Shower Doors Scottsdale
If you're in Scottsdale, and want high-quality shower doors Scottsdale services, you have definitely reached at the right destination. We know how to give clients high-quality glass and shower doors in Scottsdale Az that can make their homes luxurious.
A team of AQ Glass specialists will examine the condition of your glass and doors and develop custom solutions that meet your needs.
Testimonials From Our Clients
Don't hesitate to call the best quality glad guys in AZ! AQ GLASS, Super professional, affordable, and get the job done right the first time around.
Afordable Shower Doors, Quick turn around and very profesional.
I recently used AQ glass for my bathroom renovation. The quality of their work exceeded my expectations, and the installation was flawless. The team was professional and attentive to my requests. Overall, I'm extremely satisfied with their service and would highly recommend them for anyone in need of glass shower doors.
Gabrielle Havrisciuc
07/08/2023
Thank you Florin and Cornel for installing my shower glass. It turned out beautiful and I appreciate your quick responses and installation.
AQ glass Arizona did an outstanding job. From communication to installation we are very glad to of found this company. We will definitely be using them in the near future for all our glass needs. Thank you.
We are so happy with the way everything turned out! Getting an estimate was quick & simple. Was able to Set an installation date the same week the glass came in. They are very professional and were able to complete everything same day. 10/10 recommend very happy!
From placing the order to installation was a little under two weeks with July 4 in there. The other company was telling us four to six weeks and $300 more.
Great work. Very easy to work with.
Hacienda Estate Manager
22/06/2023
From start to finish, working with AQ Glass was perfect. Florin and crew replaced our broken shower door with a great frameless version. Always on time and fair pricing, you couldn't ask for more. Highly recommended.
Get custom shower doors Scottsdale With AQ Glass Arizona
You can install custom glass shower doors from AQ Glass to create your dream shower. Our staff knows that there are many different kinds of shower glass and doors on the market today. If you need help choosing the best shower doors in Scottsdale, our company can help.
The best shower glass company AQ Glass, sells frameless shower doors, framed shower doors and many other kinds of doors.
Our business works closely with customers to make high-quality shower glass and bathroom shower doors Scottsdale that fit their needs.
Call AQ Glass best shower door and Glass Company right now to get a free price.
Few Frameless Shower Doors Options We Provide in Scottsdale, AZ
We offer a variety of options when it comes to frameless shower doors in Scottsdale, Arizona, including: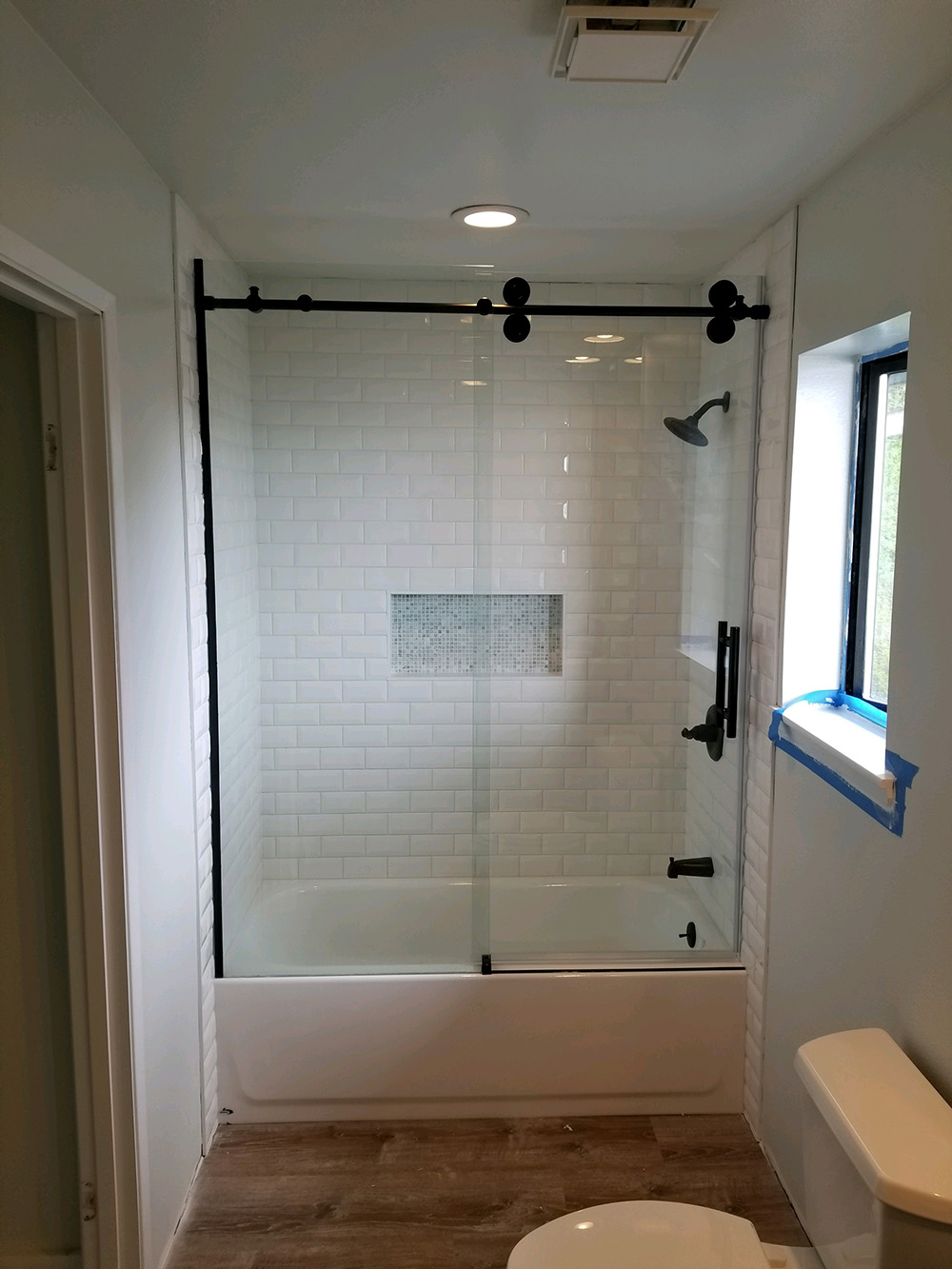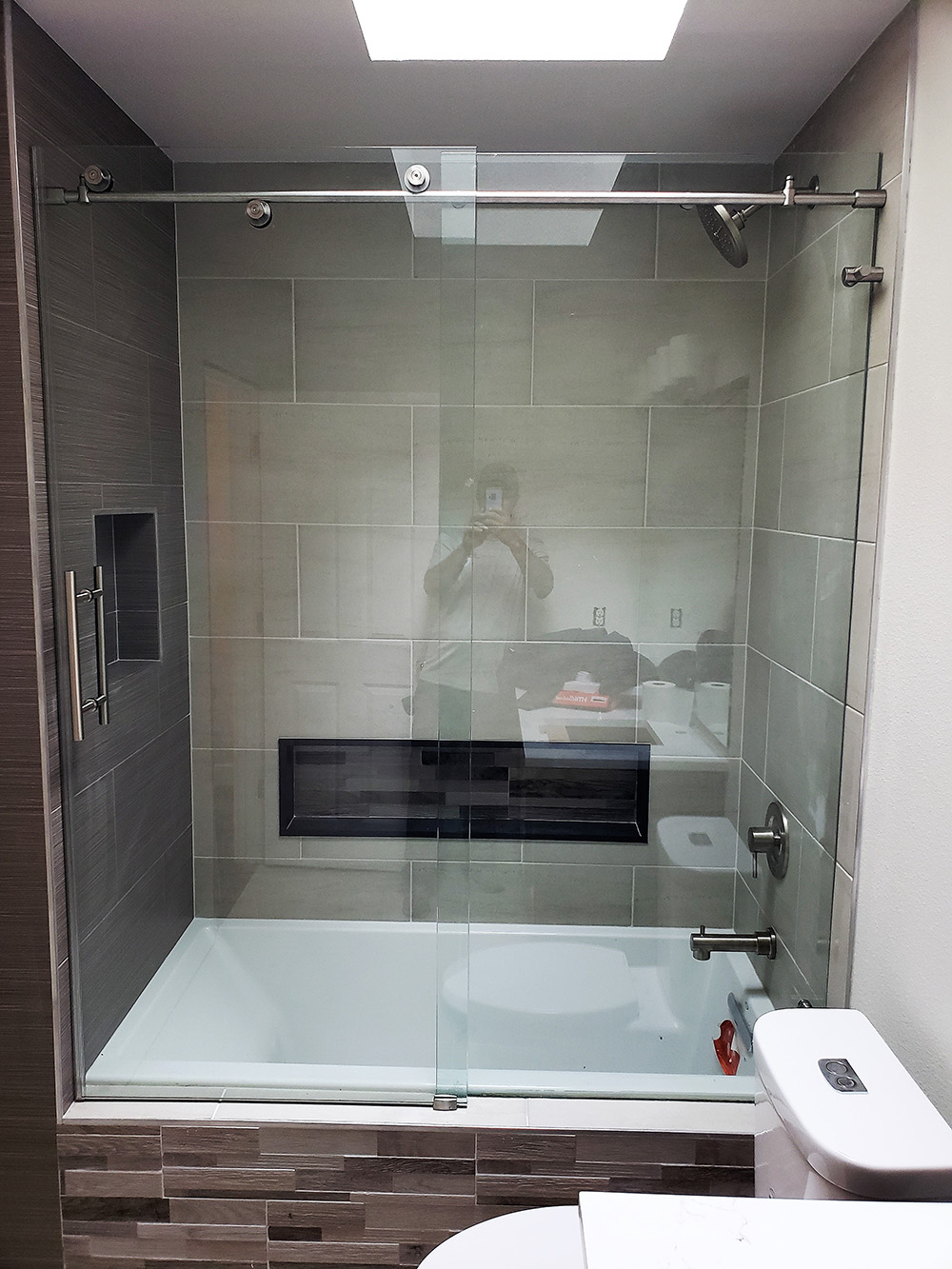 Highest-quality Glass Shower Door Installation Services
Our family-owned operated business takes enormous pride in serving our local community with first-rate hardware and expert Scottsdale shower door installation services. No other company has a management team that is similar to ours in terms of commitment and hard work. We promise to provide first-rate service during your whole interaction with us.
AQ Glass only uses the highest quality components; their customer service is second to none. Our professionals are the most reliable options for installing or replacing glass shower doors Scottsdale. Visit us to discover why our glass shower doors are the best in the industry.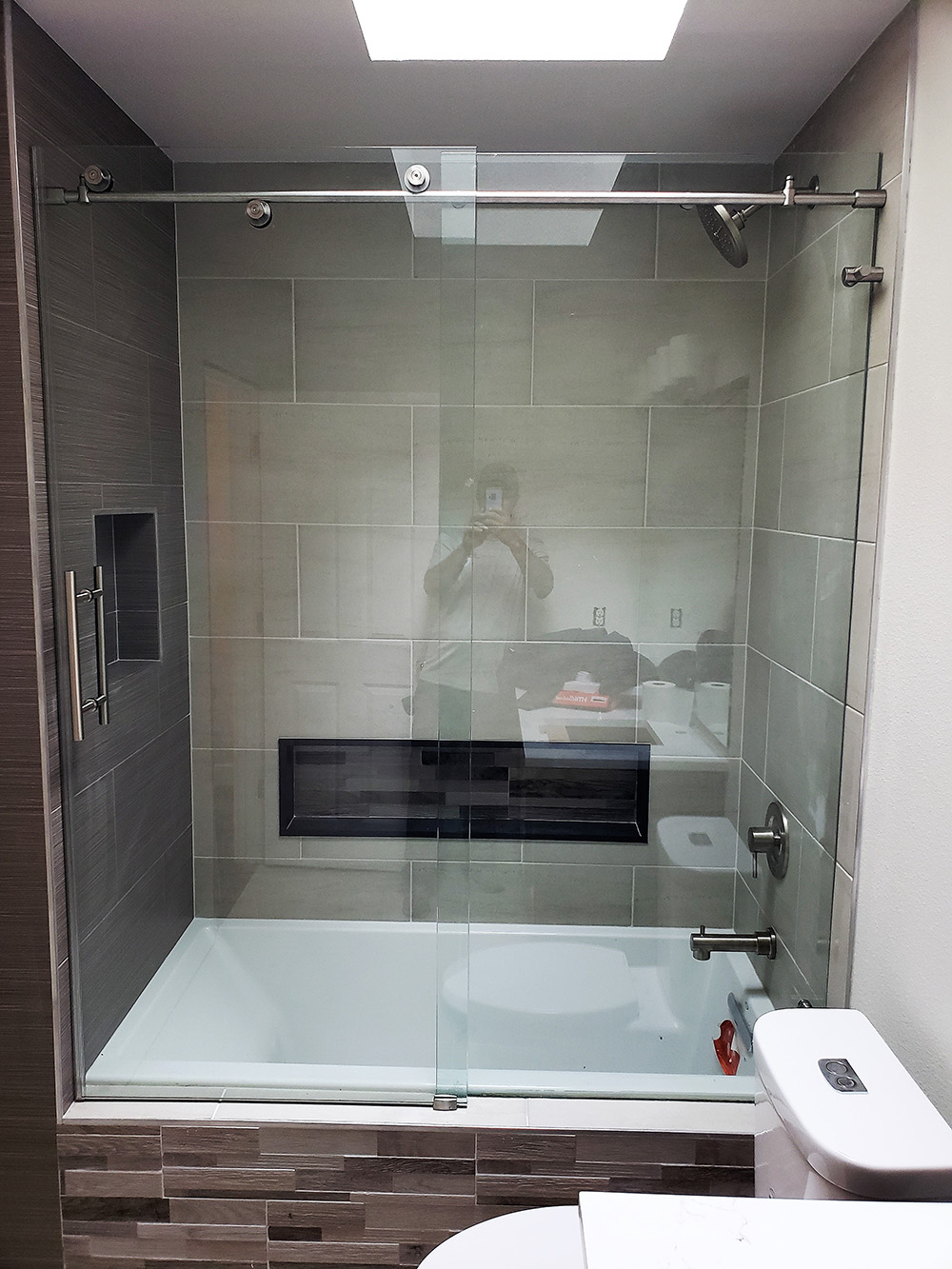 Make Your Bathroom Look Like a Spa
Be sure to only accept the finest and never compromise on quality. Trustworthy custom shower doors Scottsdale services may be found at AQ Glass. We stand behind the superiority of our best shower doors products and our commitment to client service, which is why we can offer them at such little costs.
To assure that you get the first-class service and results you deserve for your custom frameless or semi-frameless shower door, we bid complete design/consultation services to put up several shower doors designs.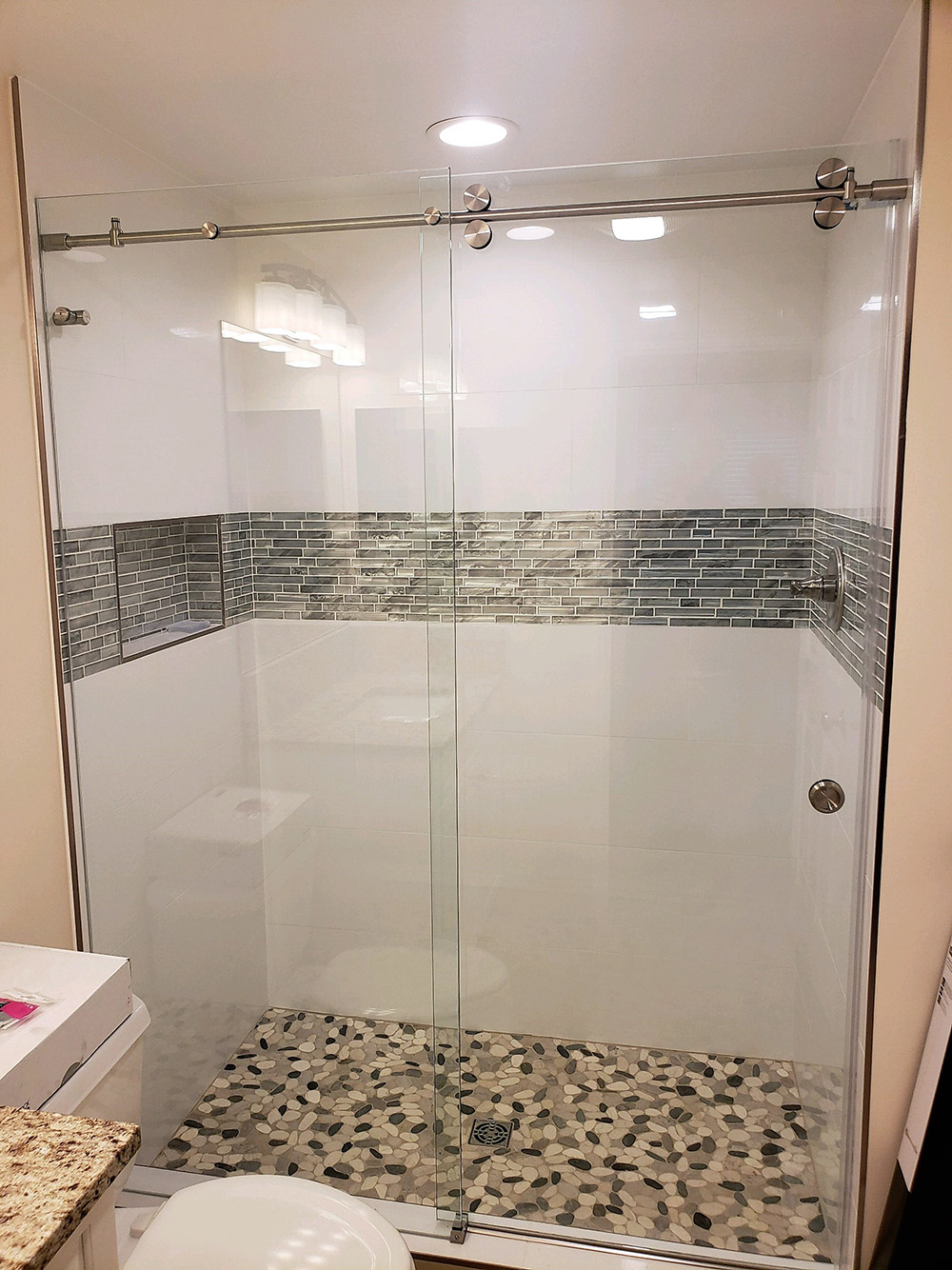 We know you want your bathroom to reflect your unique style and taste. Our talented and compassionate team is dedicated to ensuring that you receive the Scottsdale luxury shower doors you've been dreaming about. Our goal is to do everything in our power to make sure you have the bathroom of your dreams.
AQ Glass is pleased to provide our customers with several excellent options, including modern and classic frameless shower doors Scottsdale designs. You can choose from different shower door styles, including clear glass, frosted glass, and etched glass with fashionable patterns.
Customers have consistently ranked our shower doors as their top preference. One of our most popular products has been our frameless door design. It's a stylish addition to your bathroom that helps keep the ground dry.
Thanks to AQ Glass's top-notch Scottsdale sliding shower doors, you can relax knowing that you won't have to worry about slipping on wet flooring. We stand above the rest because:
Our items are incomparable and hold their own against competitors.
Our shower doors for compact bathrooms come in various styles and materials.
If you need help picking out a new shower door for your bathroom, our team of specialists is here to help.
Our shower door installation services are second to none.
We also offer replacement services at competitive prices.
At AQ Glass, we care most about ensuring our customers are happy. We are proud to be one of only a few companies in the area to have reached the amount of success we have in our field. Our customers don't expect anything less from us.
Areas We Serve Near Scottsdale
Are frameless shower doors a suitable fit for compact shower areas?
Indeed, frameless shower doors get the most out of little space. Thanks to the natural light they let in, they make the bathroom look more extensive and more open.
How do framed and frameless shower doors differ?
There is a significant visual and structural distinction between framed and frameless shower doors. Framed shower doors contain metal frames on the outside to prevent the glass from breaking. In contrast, frameless shower doors acquire their solidity appearance using thicker glass and hardware than conventional shower doors.
Do tempered glass shower doors have any advantages?
Shower doors made of tempered glass are a great idea. When broken, tempered glass will splinter into little bits rather than sharp shards. This makes it a safer alternative to conventional glass.
How do I keep the glass doors brand new?
Water spots and soap scum can diminish the visual appeal of your shower doors. Washing them down with a squeegee or soft cloth after each usage is essential. Cleaning the glass with aggressive chemicals that could corrode the hardware or scratch the surface is not compulsory.